"We can't give you anything but love"
ALL THAT JAZZ 
Jazzshows – New Orleans & DixielandJazz concerts – Church concerts – Streetparades – Small Groups
We can do everything!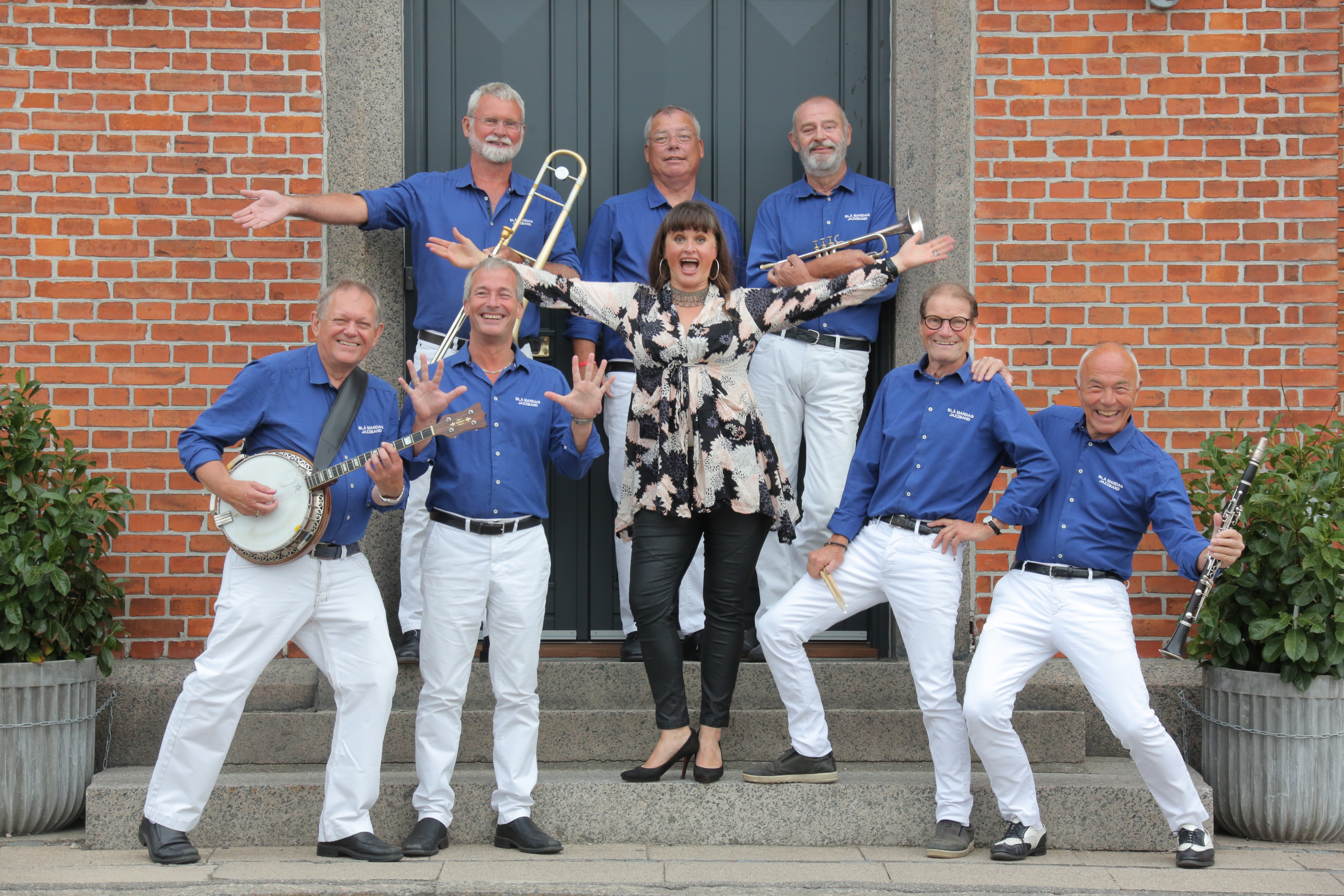 Blå Mandag is the name of a eight membered Jazzband, who has played together for 35 years. We sing and play to please others, and we, ourselves, enjoy it very much.
We love making jokes while playing, and we think we are rather good at making old, funny and traditional New Orleans Jazz, which is easy to dance to.
Our motto is: "We are here for you", so our most distinguished purpose is. "To play in the honour of our audience and guests" so they will have a tremendous experience.
We have played everywhere. At jazz festivals ("Upton" – GB,  Dresden – Germany, "Silda Jazz" – Norway, "Guiness Cork Jazzfestival" – Ireland and all Danish festivals), in aeroplanes, in a wildlife sanctuary, in bedrooms, at baptisms, weddings and funerals, in castles, at trotting races, openings, at silver weddings, at flee-markets, on top of garages, at private viewings, in pubs, on ferries and small boats, in hotels, and in a number of Danish Jazz-clubs. 
We gladly play outdoors, indoors in basements and garages, in lofts, in dining-rooms kitchens etc.
Our repertoire is very large ( about 350 songs) from the most known evergreens like "Icecreme" to the more delicate things like "Panama Rag", Ory's Creole Trombone" and "Stevedore Stomp". We have an extensive repertoire – and are very inspired by Sidney Bechet music. "Passport to Paredise", "Marchand de Poissons", "Dans les Rues D'antibes" and "Promenade aux Champs Élysées" Among others.
We play a lot of different Jazz-music, and we will play your favourite as well, just come and ask for it!
" If you want the evening to fly away, then listen to Jazz played by "Blue Monday"
We are eight happy old champs in our prime.
(At least, according to our wives!!)
Trumpet/ vocal:Erik Lund Hansen – Trombone: Henning Friis – Clarinet/ sax/ vocal:Jørgen Christensen – Piano: Jan Eirup – Banjo/ vocal:Ernst Scheufens – Bass/ vocal: Kåre Sigvertsen – Drums/ vocal:Hugo Scheel – Vokal: Lisa M. Bentzen